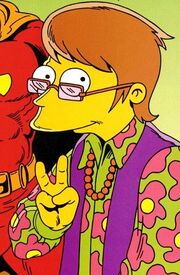 Dodd Runtledge
is a fictional character, the twin brother of Rod Runtledge,
Fallout Boy
. At a young age, Dodd went on a flight with both his parents through South America. The plane disappeared, as did all of its passengers.
[1]
Dodd resurfaced in Zenith City, brainwashed by Hypno Head in the guise of the Rev. Dim Sum Spoon. His brother Rod learned about Dodd's reappearance as one of Hypno Head's victims around the time that Hypno Head captured Radioactive Man, Bleeding Heart, and Black Partridge. Rod rescued all three of the heroes and his brother, and the heroes defeated Hypno Head. Dodd had amnesia stretching back to around his disappearance, but he nevertheless joyously reunited with Rod before Radioactive Man sent Dodd to military school.[2]
At military school, Dodd would face intense hazing, to the point that it "warped his mind." The Superior Squad revoked Radioactive Man's membership in an effort to somehow trick Dodd. Shortly after, the squad reinstated Radioactive Man "with honors."[3] Dodd would later return to Zenith City as Claude Kane's second ward, living in Kane's mansion and sharing a bunk bed with his brother.[4]