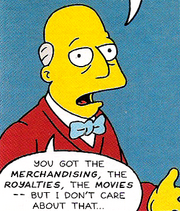 Morty Mann (born Morton Mankiewicz) is a fictional character in the Simpsons universe, the creator and longtime writer of Radioactive Man.
Fictional Biography
Edit
Little remains known about Morton Mankiewicz's early life, except that he had a wife and three children when he started working at Boffo Comics. Mankiewicz wrote under several pseudonyms: Vic Morton, Biff O'Riley, Morty Mann.[1] He created Radio Man circa 1939, whose stories ran in the back of Boffo's All-Swell Comics. The stories eventually got cancelled, and Mankiewicz went on to write horror comics for Boffo.
In 1952, his editor, Lou Krinkle, needed filler material for Boffo Mystery Stories. Fascinated with the "pure, clean" power of nuclear energy, Mankiewicz retooled Radio Man and made him into Radioactive Man. The character debuted in 1952 in Boffo Mystery Stories #15[2] (although other sources quote Radioactive Man's first appearance as Interesting Stories #27).[3]
Mann wrote Radioactive Man for a large amount of the character's history, but financial hardship forced him to sell his rights to the character to his boss, publisher and editorial director Arnold Leach,[4] for $250. When Radioactive Man went onto monolithic success as a vast multimedia franchise, Mann saw none of the royalties. Leach later fired him from the book, and he retired to a humble life in Springfield Retirement Castle. He later learned that Leach planned to kill the character off. With the help of devoted fan Bart Simpson, Mann successfully convinced (blackmailed) Leach into reversing his decision and hiring Mann back to write a limited series.[1]
Years later, Mann would make money off Radioactive Man in an unusual way in 2012. He auctioned his copy of Boffo Mystery Stories #15 for $2,500,000, sixty years after its initial publication.[2]
Community content is available under
CC-BY-SA
unless otherwise noted.