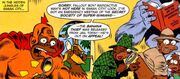 The Secret Society of Super-Simians are a group of ape heroes who protect Simian City, led by Radioactive Ape. Aside from Radioactive Ape, their members include…
Combo-Rilla, an explorer in a similar vein to Allan Quatermain. He prides himself on his storytelling ability.
Flash Gibbon, a spacefaring hero similar to Flash Gordon. He drinks heavily and can hover in the air.
Humongo, a gigantic pale blue ape, so big that he never fits in a panel. He communicates entirely through grunting.
Inspector Baboon, a detective in the tradition of Sherlock Holmes. A Cockney ape, he has a natural talent for detective work.
The apes meet every month and on emergencies to trade stories and discuss how to protect Simian City. The other apes all usually express irritation with Radioactive Ape, who loves to recount his origin story whenever he can.[1]
↑ Radioactive Man 80 pg. Colossal